One of the benefits of being an IUKF member is the ability to travel to other areas of the world and find other friendly IUKF family members to greet you and to open their dojo to you. Senior student John Joseph is certainly taking advantage of this perk as he's a frequent traveler and has visited several national and international dojos.
Sensei Paul Kronschnabl of Germany was the gracious host who entertain John while visiting their country. I'm sure John Joseph will have a lot to talk about when he gets back. It's great to find a friendly face while you are away from home in the states or abroad.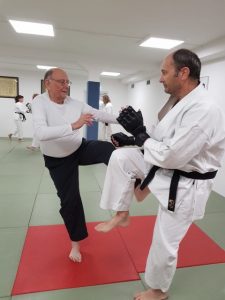 Thank you Paul for your friendship and your part in the IUKF family.
Darin Yee
Hi Darin,
today I picked up John and we drove to the dojo for a workout.
John take part of the training and I think he enjoyed it.
He can tell you about it, when he is back in US.
Everything was ok. At the end of the training I asked him to give some ideas about his way for training kata.
It is always interesting for me to see what other Uechika are doing.
Best wishes,
Paul