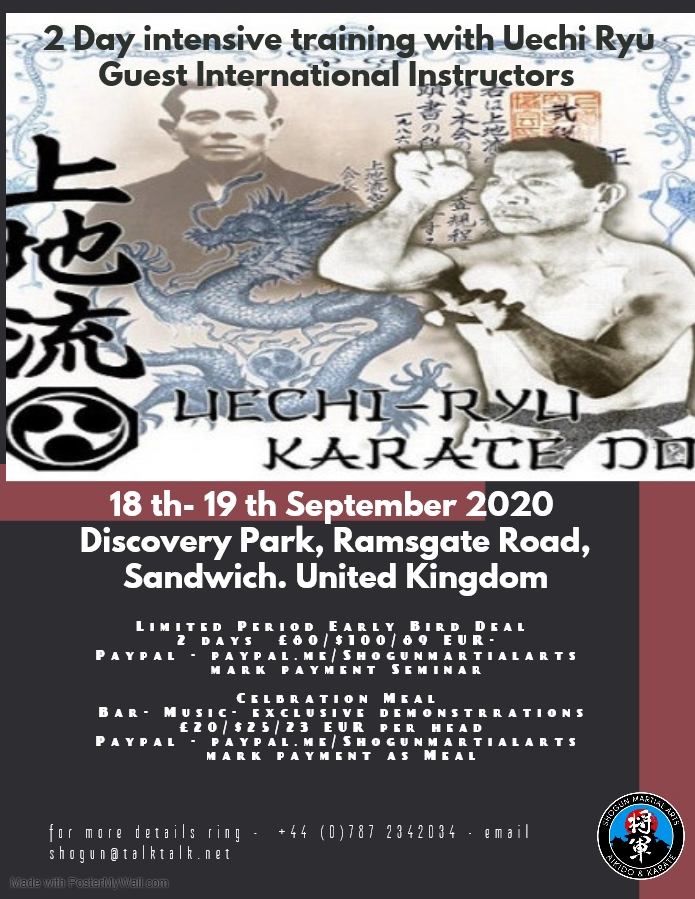 Set in the grounds of the Discovery Science Park Building 509, situated close to the historic towns of Sandwich, Canterbury and Dover, the European regional Uechi-Ryu workout 2020 promises to be a must attend Seminar for the serious Uechi practitioner.
Uechi Brethren from all associations have been invited so we can share and engage with the wider community and enjoy 2 days of training from September 19th – September 20th, 2020.
We have confirmed presenters from USA/UK/Germany including:
George Mattson – 10th Dan Father of Uechi Ryu in America
Darin Yee – 9th Dan IUKF President
Al Wharton – 9th Dan IUKF Bermuda
Jim Hulse – 8th Dan IUKF GB
Lee Adams – 7th Dan IUKF GB
Paul Kronschabl – 6th Dan IUKF Germany
David Harris – 6th Dan Uechi Ryu GB
Scott Hulse – 6th Dan IUKF GB
Thomas Podzelny – 5th Dan Okinawa Uechi Ryu Karate do Assc.
On Saturday evening, there will be a 3-course meal (separate charge), bar, and music so we can relax and have time to chat.
Junior Seminar (under 14) is on Sunday, September 20th from 9am – 12 Noon FOC
*Please pre-register via email – shogun@talktalk.net
Costs:
Early Bird Special:
Seminar cost £80/$100/€89 for the weekend
PayPal link – paypal.me/Shogunmartialarts – please put 'Seminar' in comments
3 Course Celebration Meal
Cost: £20/$25/23EUR
PayPal link – paypal.me/Shogunmartialarts – please put 'Celebration' in comments
Other Information:
Trains from London:
Ramsgate – 1 hour 18minutes then taxi for 10 minutes
Canterbury West – 58 minutes then taxi for 20 minutes
Sandwich – 1 hour 28 minutes then taxi for 8 mins
Dover Priory – 1 hour 5 minutes then taxi for 25 minutes
Hotels:
Building has started on a travel lodge in the Discovery park site; the hope is that this will be available for the event, however other options are available. Shogun has a minibus which should be available to shuttle attendees from local hotels to the event.
Taxi's:
Sandwich Taxis – 01304 617 424
Thanet Cars – 01843 666 666
Longley's Private Hire – 01227 710 777
**Please note that you don't have taxi's at Sandwich train station, please book in advance.** maybe for registration.
Activities:
There are many things to see and do in the UK during your visit some suggestions are listed below, if you get a chance why not visit the historic City of Canterbury with the world-famous Cathedral which will celebrate its 800th birthday in 2020, explore the historic streets the home of Chaucer's Canterbury Tales.