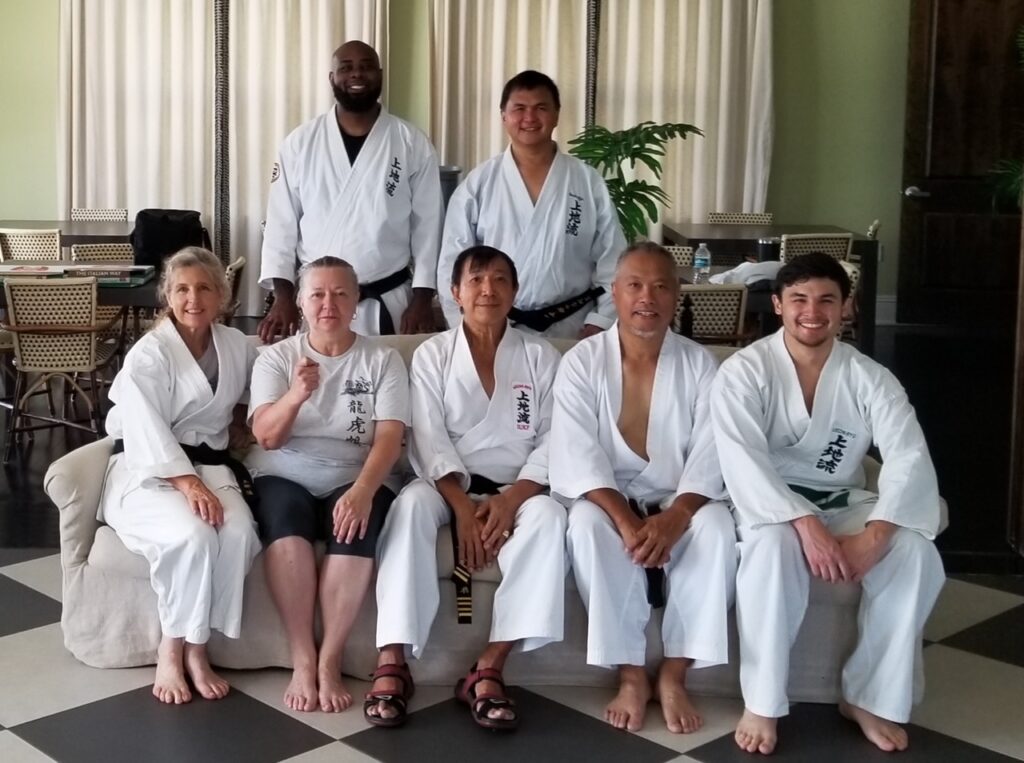 Had a great 3-hour workout with a couple of friends here in Riverview, Florida, on Sunday, August 7th.  I apologized for not being able to train as hard as they did due to the surgery schedule, but I did my best to demonstrate. We did some warm-ups and went into kata. We stopped after each kata to discuss the usage of each movement and experimented with them to understand our personal understanding and to find what ways would provide us the most power by hitting striking pads. We had a good lunch afterward, and many of us sat by the swimming pool for an hour to socialize. 
As I've received information that my next surgery is scheduled for October 18, I may try to get in another workout before then. I would like to extend this invitation to any Uechi student interested in joining our workouts to let me know. Everyone is welcome as I view all Uechi as family and not affiliations.
– Darin Yee  

Nous avons passé une excellente séance d'entraînement de 3 heures avec quelques amis ici à Riverview, en Floride, le dimanche 7 août. Je me suis excusé de ne pas pouvoir m'entraîner aussi dur qu'eux en raison du calendrier de la chirurgie, mais j'ai fait de mon mieux pour le démontrer. Nous avons fait quelques échauffements et sommes entrés dans le kata. Nous nous sommes arrêtés après chaque kata pour discuter de l'utilisation de chaque mouvement et les avons expérimentés pour comprendre notre compréhension personnelle et trouver les moyens qui nous fourniront le plus de puissance en frappant des pads de frappe. Nous avons ensuite bien déjeuné et beaucoup d'entre nous se sont assis au bord de la piscine pendant une heure pour socialiser ensuite.Comme j'ai reçu des informations selon lesquelles ma prochaine intervention chirurgicale est prévue pour le 18 octobre, je pourrais essayer de faire un autre entraînement avant cette date. Je voudrais étendre cette invitation à tout étudiant Uechi intéressé à se joindre à nos séances d'entraînement pour me le faire savoir. Tout le monde est le bienvenu car je considère tous les Uechi comme une famille et non comme des affiliations.
– Darin Yee
 Hatte am Sonntag, den 7. August, ein tolles 3-stündiges Training mit ein paar Freunden hier in Riverview, Florida. Ich entschuldigte mich dafür, dass ich aufgrund des Operationsplans nicht so hart trainieren konnte, aber ich tat mein Bestes, um es zu demonstrieren. Wir machten ein paar Aufwärmübungen und gingen in die Kata. Wir hielten nach jeder Kata an, um die Verwendung jeder Bewegung zu besprechen, und experimentierten mit ihnen, um unser persönliches Verständnis zu verstehen und herauszufinden, welche Wege uns die meiste Kraft verleihen, indem wir auf Schlagflächen schlagen. Danach aßen wir gut zu Mittag und viele von uns saßen eine Stunde lang am Swimmingpool, um danach Kontakte zu knüpfen.Da ich die Information erhalten habe, dass meine nächste Operation für den 18. Oktober geplant ist, kann ich versuchen, bis dahin ein weiteres Training zu absolvieren. Ich möchte diese Einladung an jeden Uechi-Studenten ausdehnen, der daran interessiert ist, an unseren Workouts teilzunehmen, um mir dies mitzuteilen. Jeder ist willkommen, da ich alle Uechi als Familie und nicht als Zugehörigkeit betrachte. 
– Darin Yee
Tive um ótimo treino de 3 horas com um casal de amigos aqui em Riverview Florida no domingo, 7 de agosto. Pedi desculpas por não conseguir treinar tanto quanto eles devido ao horário da cirurgia, mas fiz o meu melhor para demonstrar. Fizemos alguns aquecimentos e entramos no kata. Paramos depois de cada kata para discutir o uso de cada movimento e experimentamos com eles para entender nossa compreensão pessoal e descobrir quais maneiras nos fornecerão mais poder batendo nos pads. Tivemos um bom almoço depois e muitos de nós sentamos à beira da piscina por uma hora para socializar depois.
Como recebi a informação de que minha próxima cirurgia está marcada para 18 de outubro, posso tentar fazer outro treino antes disso. Gostaria de estender este convite a qualquer aluno da Uechi interessado em participar de nossos treinos para me informar. Todos são bem-vindos, pois vejo todos os Uechi como família e não afiliações.
– Darin Yee
Tuve un gran entrenamiento de 3 horas con un par de amigos aquí en Riverview Florida el domingo 7 de agosto. Me disculpé por no poder entrenar tan duro como ellos debido al programa de cirugía, pero hice lo mejor que pude para demostrarlo. Hicimos algunos calentamientos y entramos en kata. Nos detuvimos después de cada kata para discutir el uso de cada movimiento y experimentamos con ellos para comprender nuestra comprensión personal y encontrar qué formas nos proporcionarían la mayor potencia al golpear los pads. Tuvimos un buen almuerzo después y muchos de nosotros nos sentamos junto a la piscina durante una hora para socializar después.
Como he recibido información de que mi próxima cirugía está programada para el 18 de octubre, puedo intentar hacer otro entrenamiento antes de esa fecha. Me gustaría extender esta invitación a cualquier estudiante de Uechi interesado en unirse a nuestros entrenamientos para que me lo haga saber. Todos son bienvenidos ya que veo a todos los Uechi como familia y no afiliaciones.
– Darin Yee