Shihan Application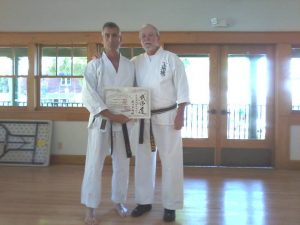 Since Shihan is considered a master teacher of the art, emphasis is placed on the teaching skill of the candidate, not the physical ability to perform the movements.
---
The application should include the following:
Certificate will be mailed to the instructor for signature and presentation to the candidate.
Candidate must be a Godan (5 th ) Degree or higher.
Candidate must be member of the IUKF.
Candidate must be an active teacher of adults, children or both, and has shown excellence in their teaching skills at the dojo, at regional workouts, or summer camp.

This means that the candidate teaches on a regular basis ("x" times per week), not simply once in a while. Teaching is a honed skill and must be constantly worked. Therefore shihan candidates must either own or train at an active dojo.
Candidate must be either an instructor or assistant instructor at a dojo.
The candidate's current instructor must submit a written recommendation. Letter must include the candidate's martial arts resume.
Forms must be submitted to George E. Mattson . (PO Box 217, Mount Dora, FL 32756)

Name
Address
Phone
Email Address
Teacher's signature
Teacher's recommendation letter and candidate's resume.
Processing fee of $100.